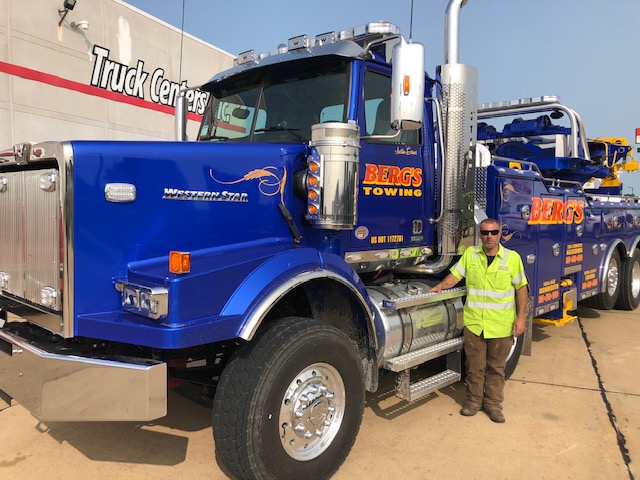 Mike Edge-Partington
Western Star Trucks
Customer Applications Engineering
Good morning Western Star nation!
Believe it or not, we, here at Western Star nation, we receive requests to spec to specific customer requests, on which we cannot always conquer. However, we will offer/guide customers to body builders who do have the capabilities to achieve these requests. So here's a fine example.
This 4900 123 BBC had the request for a factory twin steer. However, the customer was adamant on having Cummins power with dual exhaust, which is one combination we couldn't quite achieve. But, our friends above the 49th parallel, Simard Suspensions in Canada, helped complete the package, along with the friendly WST CAE representative.
Powered by the Cummins 605 HP, 2050 torque monster, this unit was built with single Meritor 20K front axle, with the aftertreatment exhaust under the passenger door.  Eaton 18 speed transmission, Watson/Chalin 20K steerable pusher, and 52K Dana tandem complete the powertrain, while triple C-channel  120KSI pig iron keep it all tied together. Wheelbase is over 352".
Now, once the fine folks at the Portland Truck Plant completed the build, this immense chassis was then sent across the continent to Quebec, Canada, to have the second steer axle installed. Then, the 80K chassis was sent to Miller Industries for the 75 ton rotator hook. 6 months later… voilà! The piece of equipment to handle any recovery operation, with the base starting with a Western Star "W" on the hood! What is really cool is that customer did two units at the same time!!!!
Thanks John Pacotti from Truck Centers Inc. (Morton, IL) for going the extra mile, to go through the process and time to create the ultimate wrecking machine, the Western Star way!
Have a great week!
Regards