Simard Suspensions' reputation has been built, among other things, from its technological input in the crane industry for many years.
The Baie-St-Paul (Quebec, Canada) based company has helped increase chassis payload and allowed them to support a variety of different equipment thanks to their expertise in chassis weight distribution and rating increase. It is not uncommon to find a boom or a knuckle boom equipped with a Simard solution.
This knowledge of suspension and steering systems has been an asset for the crane industry ever since the '90s.
Engineering capabilities
With its engineering team, Simard Suspensions has the means to create solutions and develop custom-designed products adapted to each customer-specific application.
Whether it would be spreads, equipment relocations, parts design or frame modifications, Simard workers are able to adapt to a variety of projects.
The key feature of all suspensions by Simard is that units will always retain or improve their original turning radius.
Teamwork
In the majority of its projects, Simard works closely with either OEM (Original Equipment Manufacturers) and dealers from all different makes (Kenworth, Peterbilt, Mack, Autocar, Volvo, Western Star, Freightliner, International).
Various component providers such as EZ Trac, SISU, Axletech, Kessler, Marmon-Herrington and Meritor or bodybuilders like Palfinger, Altec, Manitex, Weldco, Fassi and Manitowoc figure also among its partners.
This mutual collaboration between different industry experts all aiming for successful chassis integration allows for great success in Simard Suspensions' various ventures.
Suspensions and support
AMS40T2 Front Twin Steer
Learn more about the AMS40T2
Offering a standard front twin steer tandem suspension with the AMS40T2 (40 000lbs load capacity) and two types of heavy-duty tandem suspensions that can withstand extreme and rugged conditions, Simard has implemented these solutions to ease the heavy work and to allow a better load increase and distribution.
AMS46THD / AMS50THD
The AMS46THD and AMS50THD suspensions (respectively allowing 46 or 50 000 lbs load capacity) offer a reinforced structure allowing maximum load capacity, precise steering and safe driving.
The benefits of these suspensions are that they require minimal maintenance and very few parts, as well as standard industry components.
Learn more about the AMS46THD / 50THD
AMS60TR Front Tridem Suspension
For vehicles requiring an even greater payload and support for larger equipment, Simard Suspensions has its AMS60TR allowing 60 000 lbs load capacity. This spring tridem front suspension distributes the load over three steering axles.
A good example of Simard's integration of this tridem suspension is the project for Decca Industries in Alberta.
The 10×6 Western Star chassis was equipped with a factory twin steer, a tri-drive axle and a 33.5 m boom crane at 60 t capacity. The main issue was that its equipment was too heavy to go around Alberta's roads. Simard Suspensions retrofitted the truck with its AMS60TR as a front suspension in order to make it legally compliant.
Simard also possesses technical knowledge and expertise to complete various all-wheel-drive conversions (4×4, 6×6, 8×8, 10×10), either on class 7 and 8 trucks.
AMS60TR Video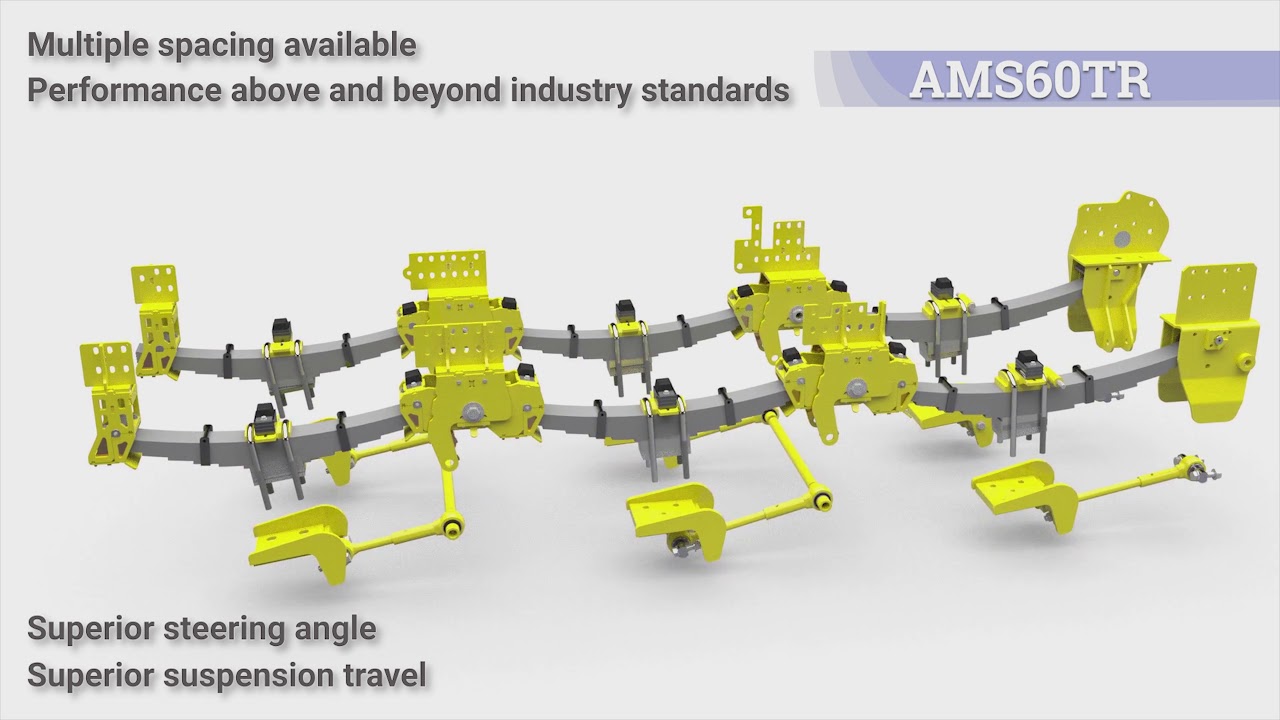 Western Star 6900XD - 8X8 conversion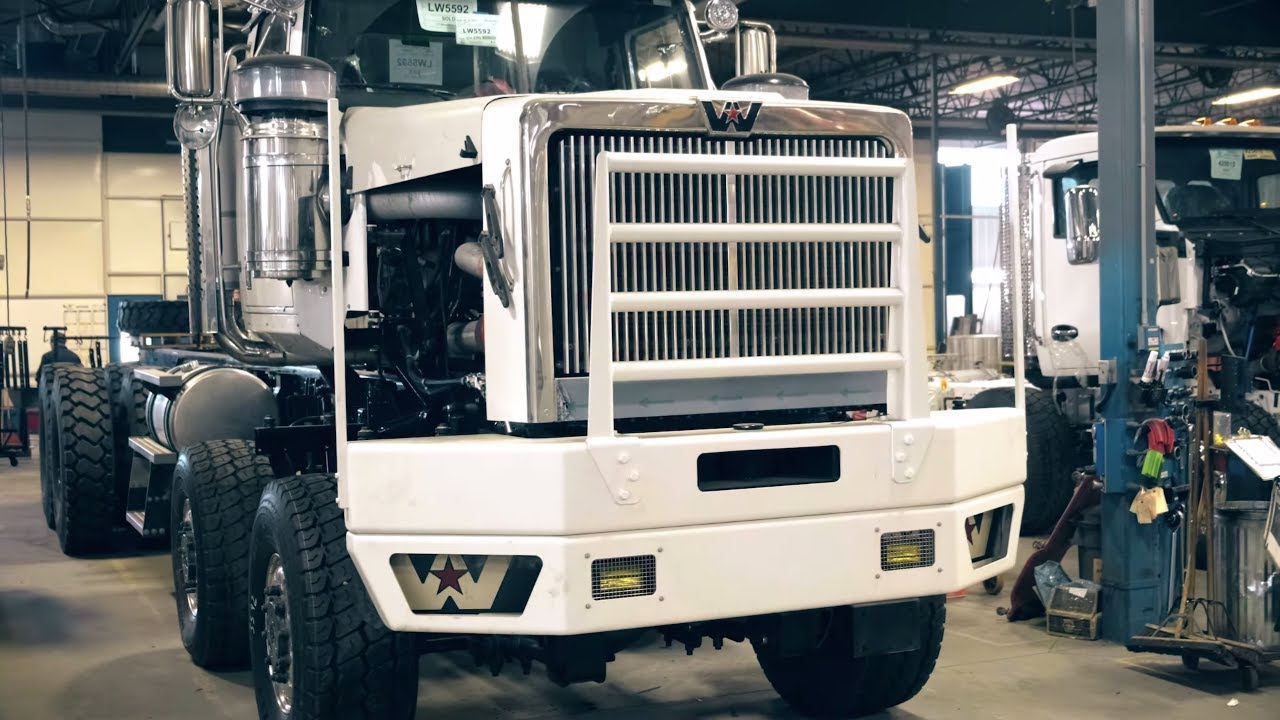 DRAMIS D60T
The heaviest of Simard suspensions, the AMS50THD, can also be found on the DRAMIS mining trucks (D-60T for short), mainly used in North and South America.
These trucks normally use 23 000 lbs front axles and the 135 000 lbs Simard DTS hydraulic suspension for its rear axles.
The hydraulic suspension linking the three drive axles gives all of the drive wheels maximum contact with the ground as well as unparalleled lateral stability.
Learn more about the DRAMIS D60T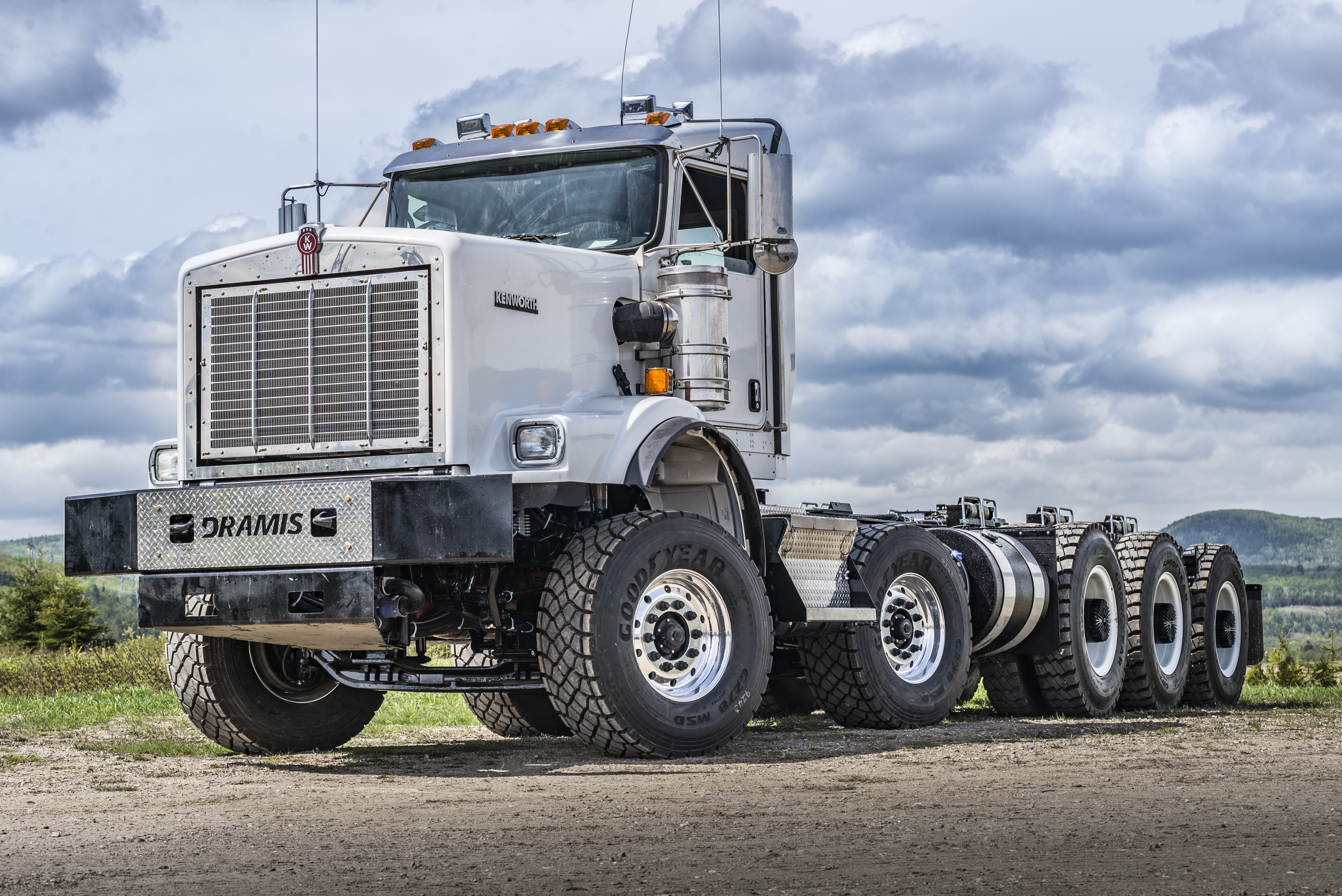 No Games - Just Support
Pricewise, Simard Suspensions modifications combined with body installation generally cost less than some rigid haulers and with its speed, capacity, fuel consumption and easier maintenance also add up to a lower operating cost than that of other machines. Do you want to know more? Contact an expert for more information